Back to the Blog
Steel's hardest workers are giving back to those hardest hit
The season of giving is upon us, and steel workers across our industry are choosing to give back in a big way. 2020 was a tough year for many people, which is why workers in the steel industry are banding together to bring a little holiday cheer to those who were most impacted in their communities. Mill workers are proving, once again, that they are the stuff of steel.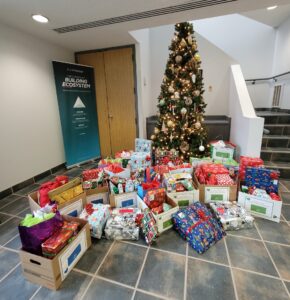 Two families, twice the cheer
Employees at Z Modular's Kitchener, Ontario, plant are coming together to support two families in their community. The plant is working with a local organization to give each family's five children the clothes, necessities and toys they need to make the holidays extra special. The Z Modular plant is hoping to double last year's donations, putting a bow on the end of this year.
A hunger to help
Atlas Tube's Harrow, Ontario, plant is raising money to provide 200 meals for community families in need. The plant is working with The Downtown Mission of Windsor to ensure families in their community don't go hungry this holiday season.
Driving local donations
The Atlas Tube Harrow, Ontario, plant isn't stopping at meal donations. Employees here are also participating in a food and toy drive that will benefit local community members. All food and toy donations that are made at their location will stay within their community.
Banking on a better holiday
U.S. Steel is spreading a little holiday cheer all over Northwest Indiana. They've donated $30,000 to two food banks serving the Northwest Indiana area. The financial hardship caused by COVID-19 has driven up the need for assistance by nearly 60%, with lines at food banks stretching for blocks. U.S. Steel's donations will provide much-needed meals and good spirits for struggling community members. Read more about their efforts here.
It lifts our spirits to see those in our industry closing out the year with such heartfelt generosity.